The SLIM Solution from H&A Scientific.
Stability Laboratory Information Manager
A Laboratory Information Management System (LIMS) should make your job easier, not harder. Enter H&A Scientific's SLIM (Stability Lab Information Manager). SLIM was developed and validated to be a complete stability study management software. SLIM has the rich feature set required to meet the challenges today's Lab Supervisors and Stability Managers face on a daily basis. SLIM's fast, intuitive user interface and exceptional reliability provide a simple, seamless operation, allowing it to manage your company's drug stability program with optimal efficiency.
Operating under the principle that better software equals better science, H&A's experienced chemists and scientists have worked with multiple LIMS and spent over 30 years perfecting SLIM. Fine-tuned with extensive customer feedback and backed by world-class partner support, the SLIM Software Suite is the simple, yet powerful stability study management software solution your company needs.
SLIM includes two additional software programs, SLIMStat and SLIM Report Generator (SRG). SLIMStat is an industry favorite used for statistical shelf life analysis.  SLIM Report Generator simplifies the presentation of final data for regulatory submission. SLIM's off-the-shelf scalability, contrary to most full LIMS, allows it to remain affordable for businesses of all sizes, with installation, on-site or remote validation, training, and support provided by H&A Scientific. SLIMStat can also be purchased as a stand-alone application. All of our products are 21 CFR Part 11 compliant and fully validated per FDA's GxP and GAMP5 guidelines.
Key Features and Benefits
Completely new, streamlined User Interface
Common actions are presented on the main browser/dashboard (SLIM Hierarchy Icons, To Do List, Calendars, LWR Counts, etc.)
Quickly add Core Components, such as Responsible Labs, Storage Chambers, Storage Conditions, Ingredients, Suppliers, Manufacturing Sites, etc in a centralized location
Protocol Editor for intuitive study/protocol creation and matrix design (simply choose time intervals and storage conditions, then drag-and-drop tests into the appropriate interval/condition cell)
Automatic time point scheduling, sample pull management, and resource scheduling
Complete stability database with extensive formulation capabilities
Secure data entry, verification, and approval with easy-to-use Lab Work Request (LWR) Form or Spreadsheet modes
Workload calendar functions allow for quick and simple rescheduling
E-mail notifications for Out-of-Spec (OOS) results, late lists, etc.
Stability chamber inventory management from setup to discard
Batch Analysis, Batch Summary and Turnaround Times Reports
Multi-level attachments allow documents and links to be attached to associated data
Product and study inventory labels
Alternate Test Specifications and Alert Limits, supports global marketing of drug products and tracking OOS results
Includes SLIMStat for statistical shelf life analysis and other valuable statistical calculations (see SLIMStat page for additional information)
Includes SLIM Report Generator (SRG) for seamless submission-ready reporting of your stability data (see SRG page for additional information)
Launch SLIMStat or SRG directly from SLIM with a click of a button
Learn more about the key features of SLIM by contacting us (here) today.
Study Protocol Creation & Modification
Easy to use Protocol Editor for simple and flexible protocol set-up
Reduce study creation time with easy-to-use time interval and storage condition selection process, drag-and-drop feature for adding required testing, and study copy-and-paste features
Capable of assigning multiple storage dates for different storage conditions for a single study
Automatic calculation of the number of units needed for each storage condition
Automatic calculation of schedule dates once Initiation Date is entered
Adhoc like-testing and study revision
Click the thumbnail to see a larger image of the Protocol Editor
Click the thumbnail to see a larger image of the Protocol Template Selector
Schedule a free virtual demo covering this easy-to-use Protocol Editor, Protocol Template Selector, and much more. 
Data Entry, Review, & Approval
Lab Work Request (LWR) data entry that passes through entry, verification, and approval status
Alternate Specs, Alert Limits, email notifications, electronic signatures, and change controls
Selected tabular data may be saved to the clipboard for exporting into other applications, or data may be exported directly from SLIM into Microsoft© Word or Excel.
Import/Export data to a third party software with our Systems Interface Module (SIM) Toolkit
Click the thumbnail to see a larger image of the Lab Work Request (LWR) Form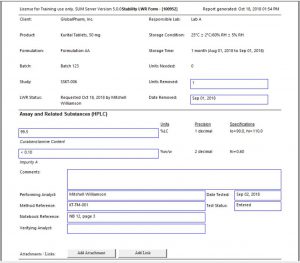 Schedule a free virtual demo covering these essential tasks and much more. 
Calendar Functions & Reports
Generates weekly testing schedules, long-term forecasts
Easily create product-specific or test-specific schedules
Supports multi-laboratory scheduling of tests
Workload calendar allows users to view and adjust the upcoming work schedule
Pull Calendars that allow one-click grouping of upcoming work
Out-of-the-box systems reports include Stability Study Framework Report, Detailed Study Results Report, Inventory Report, and Out-of-Spec (OOS) Result Report, just to name a few
Click the thumbnail to see a larger image of the Workload Balance Calendar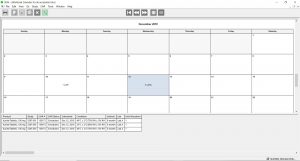 Want help balancing your stability workload? Let's get started today by scheduling a demo!
Fully Validated Software
SLIM is a fully validated software system designed to be compliant with FDA GxP guidelines for software development and validation. It includes functionality for electronic records, event logs/audit trails, change controls, and electronic signatures rules of 21 CFR Part 11 as they relate to "closed" systems.
SLIM also features a GAMP 5 Risk-based validation methodology that allows for a streamlined-yet-comprehensive, ready-to-execute IQ/OQ validation package – no need for complex testing of endless configurations.
Click the thumbnail to see a larger image of the Dashboard Interface
Want to discuss our validation practices in more detail? Give us a call at (252) 557-9108 or email us!
System Requirements
SLIM is a client/server application that is fully validated to utilize either a Microsoft© SQL Server database (2008, 2012, 2014, 2016, 2017, or 2019) or an Oracle database (10g, 11 g, or 19c). Fully validated on Windows environments such as Microsoft® Windows 7, 8, 10, and 11, and Microsoft® Windows Server 2008, 2012, 2016, 2019, and 2022, the SLIM software suite can be implemented on a standalone PC, local area network (LAN), or across the world using Terminal Server, Citrix, or the Cloud.
Speed. Stability. Accuracy. Productivity. These features are key in any modern stability laboratory information management system (LIMS). SLIM has them all — and more …
H&A Scientific's SLIM. By stability professionals. For stability professionals.
What Our Clients Say About SLIM
The software is a very useful tool, complying with the safety and traceability standards of the pharmaceutical industry. The software complies with the FDA and ICH Q1E recommendations, aiding us to fulfill the industry's needs

H&A customer service is exceptional, reflecting their genuine interest for our implementation success. Their knowledge of ICH stability and software validation is evident in the design of the systems and their documents.

I evaluated several systems for a stability data base and statistical analysis. H&A promptly responded to my call, provided a thorough demonstration and a comprehensive, very reasonable quote.

"SLIM software helps me stay organized and compliant. It has an intuitive interface that makes it very user friendly. The tech support we receive from H&A Scientific is wonderful! I wish all software could be like SLIM!"

We have utilized H & A Scientific staff for onsite and remote validation. This service is well worth the expense. Execution is fast and very thorough. The technicians are professional and work very hard to minimize disruption to the business.

As an IT Analyst, I have been supporting SLIM and SLIMStat in a laboratory environment for over ten years. This is by far one of the best constructed software systems we support. H&A has provided us with quality systems that usually only need attention when it's time to upgrade.

We have utilized SLIM, SLIM Report Generator, and SLIMStat+ since 2006. Administration of the system requires very little time. The system is extremely stable, and does not require constant updates or fixes. System support provided by H & A Scientific staff is better than one could imagine.