SLIM Report Generator (SRG)
Validated & Customizable Report Generation
SLIM Report Generator (SRG) is an extremely configurable reporting tool included with every purchase of the SLIM software suite. The built-in Report Generator allows users to produce validated, submission-ready stability summary reports. While utilizing SLIM's security/database features, SRG provides an abundant amount of formatting options to display your stability data tables. From Stability Summary Reports, to Certificates of Analysis, to Global and User defined report templates, the configurations of SRG ensures you have the layout required to meet your regulatory department's requirements for your stability data. SRG will be an essential part of your drug stability program with its functional time-saving reports. Simply select a study and generate the report…leave the formatting to us!
Key Features and Benefits
Submission-ready reporting made easy with pre-designed industry-recommended data table formats
Select a study and see a final submission-ready summary report at any time
Reports available in the English, French, German, Japanese, Polish, Portuguese, and Spanish languages
Easy to format Global and User defined Report Templates ensures company-wide format compliance
Traditional Certificate of Analysis Report and the display of a given time point (storage condition and interval combination)
A specification events table can be displayed to show the specification changes for a given study over time
The addition of signature lines and a free-text GMP statement enhances report approvals
Easily filter the storage condition, interval, and testing you wish to display
One-button copying of report pages allows for easy pasting into Microsoft® Word documents or PowerPoint presentations
Over 50 formatting options ensures you can produce the report you need to best display your data, while adhering to industry-recommended standards
Fully integrated with SLIM's 21 CFR Part 11 compliant features. One-way flow of data from SLIM to SRG ensures data integrity.
Click the thumbnail to see a larger image of the Stability Summary Report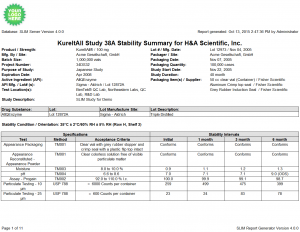 Click the thumbnail to see a larger image of the Report Properties Editor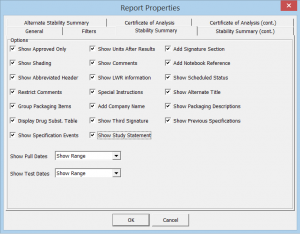 Creating stability summary reports in a submission-ready format can be a complex task for any stability professional — but not with the SLIM Report Generator (SRG).